Malaysian Financial Markets: Resilience Amidst Global Uncertainties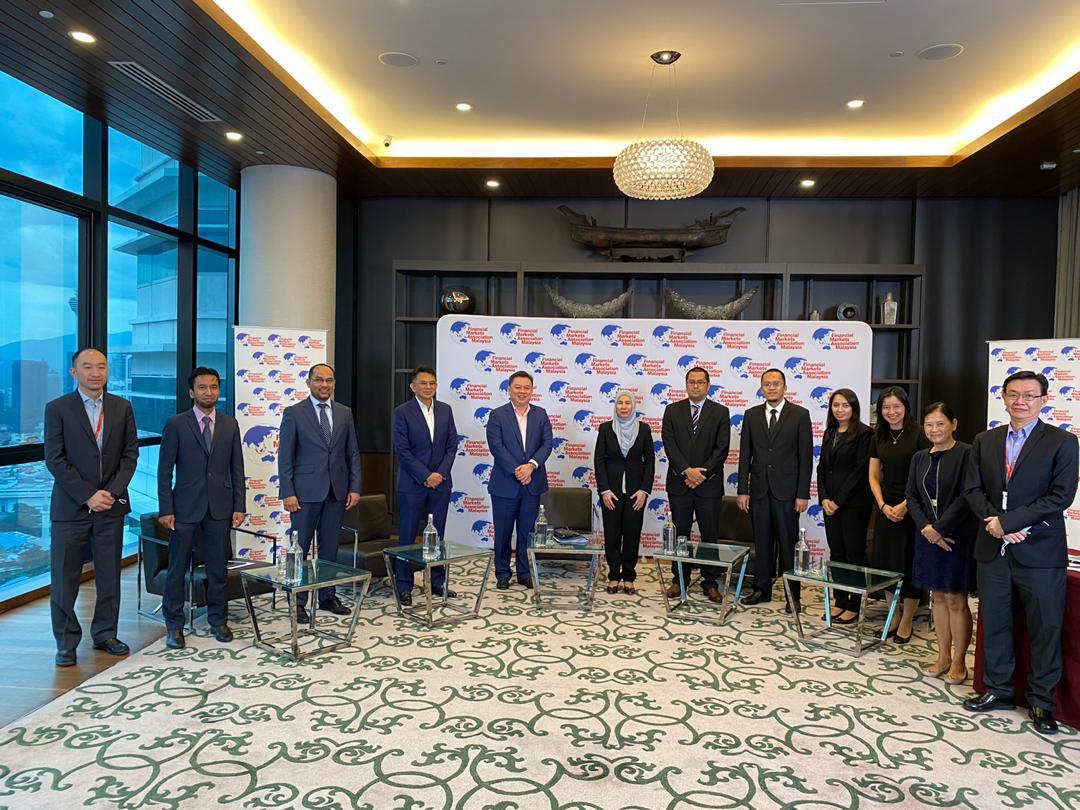 On 25th August 2020, Financial Market Association of Malaysia (FMAM) in collaboration with Bank Negara Malaysia (BNM) and Ministry of Finance (MOF) organised an investor engagement video conference – "Malaysian Financial Markets: Resilience Amidst Global Uncertainties". The conference which is in its 4th series of engagements with financial market participants, was well received with participation from more than 300 professionals, comprising of portfolio managers, institutional investors and representatives from both local and global financial institutions. The panel discussion focused on the current macro themes and the resilience of the Malaysian financial markets vis-à-vis regional peer markets.
The Malaysian financial market remains resilient and continues to function efficiently despite a challenging global economic environment. Globally, downside risks to growth persist amidst challenges from the Covid-19 pandemic. In the second quarter, Malaysia's growth slowed to a pace of -17.1% year on year in line with other regional peers following measures introduced to contain the spread of the Covid-19 pandemic. Similar growth contractions were seen across Asian economies including Singapore, Philippines and Indonesia which recorded negative growth prints in the second quarter of -13.2%, -16.5% and -5.3% respectively on a year on year basis.
Domestic growth recovery expected in 2H2020
Despite the negative growth print registered in 2Q2020, domestic growth is expected to improve in 2H2020 with the gradual reopening of economic activities. The recent rebound in exports seen in June at 8.8% YoY versus a prior contraction of -25.5% in May can be attributed to further easing in movement controls which are expected to provide renewed positive catalysts to support growth recovery in 2H2020. Malaysia has injected almost MYR 45bn in fiscal support directly which amounts to about 3% of its GDP and this is part of a planned MYR 295bn total injection into the economy. The Movement Control Order had been in place since 18th March and Malaysia is currently in the Recovery MCO phase. We have observed limited economic activity for the period between April and June in Q2 due to strict enforcements. However, by late June we had witnessed pick up in major economic activities, primarily in the Manufacturing, Agriculture and Construction sectors given that most sectors were reopened and movement control orders were relaxed. It is likely that going forward there is a very strong possibility of a sharp recovery taking hold for the economy. Past crisis has indicated a very strong rebound for the economy and we believe markets will witness a similar pattern this time around.
MYR bond market liquidity remains healthy
In the MYR bond market space, trading activities are healthy, recording a robust daily transacted volume of MYR5bn for MYR government bonds and sukuk year-to-date, higher than the daily average traded volume of MYR4.2bn observed during the same period in 2019. Meanwhile the monthly average traded government bond and sukuk volumes in 2020 remained robust with MYR102bn transacted, higher than the monthly average of MYR85bn recorded in 2019. The robust trading volumes are reflective of efforts by Bank Negara Malaysia to enhance liquidity which include amongst others increasing the availability of off-the-run bonds to be borrowed via repo for market-making activities, extension of repo tenor beyond 1 year and adoption of standard Islamic Repo under Sell and Buy Back Agreement (SBBA) and Colateralised Murabaha' which have positively enhanced liquidity and market accessibility. Improved trading activities continue to mirror positive support by Bank Negara Malaysia's (BNM) expanded repo facilities, which currently accounts about 80% of the total MGS universe to boost liquidity further via recirculation of captive bond holdings. As of June 2020, average daily repo volume remained robust at around MYR2.6bn.
The 2020 auction calendar continues to feature more reopening tenders to increase the depth and liquidity of existing benchmarks, with the size of the outstanding 10-year benchmark currently reaching above MYR20bn. The implementation of physical settlement of MGS futures is expected to bode well, amidst continued efforts to further enhance the depth of the MYR bond market.
Domestic bond market liquidity remains healthy, reinforced by strong bid-to-cover ratio. The average YTD bid-to-cover trend stands at 2.32 times, reflective of continued strong support from domestic real money investors. On a related note, foreign ownership of MYR bonds gained positive traction in recent months, with positive bond inflows for the months of May, June and July of MYR1.5bn, MYR11.6bn and MYR7.1bn respectively. Total foreign ownership of MYR government bonds currently stands at 22.7% in July, an increase from 22.2% recorded in June.
MYR corporate bond market garner positive momentum
Given the accommodative stance embarked by global central banks and Bank Negara Malaysia (BNM), the current monetary policy landscape on the domestic front remains constructive for corporate bonds and sukuk issuances. Although combined issuances of new primary corporate bonds in 1H2020 were lower at MYR38.8bn versus MYR74.9bn raised in 1H2019, we expect the momentum to pick up in the 2H2020 as corporates are compelled to lock in on lower borrowing cost with issuances skewed towards the longer-dated spaces. Issuance momentum have grown considerably in recent weeks following the pre-emptive OPR cut of 25bps by BNM in July which brings the current OPR level to a record low of 1.75%. From an investment perspective, investing in MYR bonds still continues to provide attractive real yield returns as inflation is expected to remain in negative territory for 2020 and benign in 2021.
Enhanced flexibilities on ringgit transactions
Recent initiatives for the development of the Ringgit interbank such as the expansion of dynamic hedging programme to include trust banks and global custodians has provided an avenue for non-resident investors to actively manage their FX exposures onshore. These institutions can now apply under the programme to undertake dynamic hedging on behalf of their underlying clients.
To better facilitate the management of FX risk, taking into account institutional investment profiles, registered institutional investors can enter into forward contracts to buy Ringgit beyond the current 25% (of underlying assets) threshold upon approval by BNM.
The onshore dynamic hedging is superior to the NDF market as it involves onshore financial institutions and limits the offshore FX risk. Spreads on the dynamic hedging are narrower given the participation of the local financial institutions who are market makers in USD/MYR unlike the NDF market. The AOO on the other hand continues to facilitate access to onshore markets globally. Daily average volume has increased by 55% since 2017 to almost USD 350 to 400 million by end of 2019. The onshore FX market has also witnessed improved liquidity, an increase of 23% since 2017 to almost USD 12 to 14bn by end of 2019.
To further ease investors' accessibility to the onshore FX market, FX transaction and documentation processes will continue to be improved and simplified. In this respect, a standard documentation guide for FX transactions has been developed by the industry and circulated via the Association of Banks Malaysia (ABM) and Association of Islamic Banking and Financial Institutions Malaysia (AIBIM) for reference by market participants.
The Appointed Overseas Office (AOO) framework which was expanded in 2016 serves to enhance the provision of Ringgit liquidity beyond the local trading hours. Currently, there are 156 AOOs from 21 banking groups operating in 36 countries. Selected AOOs will continue to facilitate the market-making capacity to ensure transparency to ringgit prices with USD/MYR price publication during London and New York hours on Bloomberg. As of end June 2020 average daily FX volume has increased to USD 11.9 bn and the dynamic hedging participants has risen to 114 managing over USD40 bn worth of ringgit assets.
We expect the MYR to remain resilient and on an appreciation path. On balance, a weaker USD outlook and uncertainties of the US economy coupled with ample domestic liquidity are expected to keep the MYR at the appropriate level to reflect long-term economic resilience and market confidence.
Financial Markets Association Malaysia
25 August 2020